Dating is hard enough on its own, let alone when you have kids, and it has more to do with physiological issues than with just time scheduling.
After finding who you think was The One, settling down, and procreating, you've found yourself single again, but this time around you have to handle the art of dating while having kids.
Break ups, separations, and divorces are extremely hard in every sense of that word, and they only get harder if the two of you share children. And the kids probably aren't too happy about the situation, either.
Getting back out there takes a lot of courage, will, and optimism, not to mention time planning. Also, you need to get yourself in a place where you won't feel like you're selfish and/or not thinking of your kids.
From a psychological standpoint, that's the hardest thing to do.
Luckily for all of us, online dating has swept the world of its lovey-dovey feet, and it has made things easier for all of us, in a lot of ways. And primarily, the online option has made dating a lot easier for UK singles with kids.
So, if you've found yourself single again, and you have a child (or a couple of them), it's crucial to know a couple of things in order to make online dating work.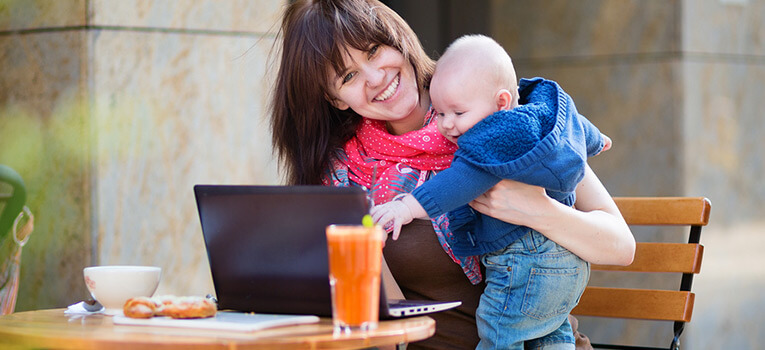 Take Some Time To Heal
After a separation (particularly a though one), or even worse, after losing a loved one, dealing with the world is devastatingly hard, scary, and unfamiliar. In some ways, it's more like learning to walk again than riding a bike.
First of all, you need to establish whether you're ready to get back into the game in the first place. If you don't feel like dating yet – don't.
You need to let yourself heal, not just for you, but for your kids, and ultimately for that next person that comes along. A healthy mindset and the will to work on issues don't just come on its own. It takes time to develop them. You can't trust someone if you've lost the ability to trust others, but in order to function properly in a relationship you will need to learn how to trust again.
Simply put, give yourself as much time as you need.
Even though online dating is easier than classic dating in many ways, it also requires time, effort, and willingness to give someone a chance. In order to do that, you need to give yourself a chance first – a chance to get ready to start dating again.
Pick The Right Site For You
Thankfully, there are a lot of different kinds of UK dating sites and apps nowadays, so you don't have to push yourself into joining a site that's filled with single 20-somethings who will (in most cases) flee as soon as you tell them that you have kids.
Now, you can join a dating site designed specifically for singles with kids where you will probably feel more at home. And you don't have to jump straight into dating. Get to know the people first, make friends, and share experiences. Talking about the things you went through helps you heal faster and better.
Step By Step
After finding someone interesting, and getting to know them a bit better an online dating site of your choosing, IM or chat, you can invite them to get drinks or some food. If things don't work out, at least you've made a new friend.
If the two of you do hit it off, and eventually start dating "for real," take it as slow as you want.
You don't need to do anything that you don't want to. Also, don't introduce them to your kids if you're not really sure that you like that person, in case things don't work out. A month or two of prior dating is usually needed before taking that next step.
It's crucial to know what you're looking for as well.
Maybe you just want to date a bit, or maybe you want something serious. Figure it out and let the other person know before deep feelings get tossed into the mix.
Talk To Your Kids
This is the most important part of your fresh romance start. Whether your kid(s) is/are five or fifteen, you need to explain to them that you've found someone you like and that you want to be happy as well.
Mention that they'll come first always, but a special connection needs to exist in your life. And of course, state that the new person won't try to replace their other parent.
And lastly, remember that you're not selfish for wanting to be happy. If needed, tell yourself that every day.