As exciting as online dating is, there are definitely certain elements to it that are less than pleasant. And no one knows this better than the Brits!
Anyone who's ever tried online dating on the island knows all too well that finding love takes plenty of time and effort.
Overcoming all the challenges and problems of online dating in the UK can sometimes be a lengthy process, but nevertheless one worthy of all the trouble.
Today we take a closer look at some of the most prominent negative aspects of online dating and present some of the ways to minimize them.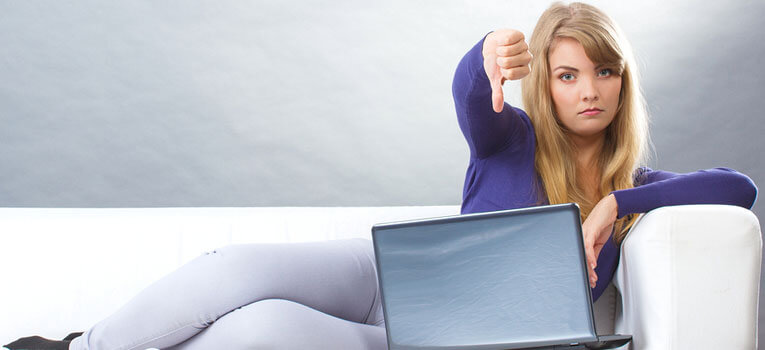 Problem #1: Fake Profiles
Unfortunately, not everyone who opens a profile on an online dating site has the same intentions. Some people are there just to check out the competition or see if that nag from the office is an online dater, and so their profiles just sit idly.
Most of the heaviest hitters in the UK online dating game have great customer service, thus they manage to reduce the number of fake profiles and exclude the people who aren't there to date from the pool of possible matches.
However, fake profiles are still the biggest problem with online dating and it's best if you can spot them early and avoid them altogether without wasting any time.
People with fake profiles usually have fewer or no photographs at all, or if they do have them they are usually images of something abstract that doesn't show their face.
Fake profiles are seldom updated and overall there is very little activity surrounding them, so if you want to be sure you're not talking to an internet bot, it's best you avoid profiles like these.
Problem #2: Fewer Profiles From Small Towns
Online dating in the UK is definitely biased and tends to cater more to the individuals living in larger cities than those from small towns.
As online dating is a simple numbers game, the more people from your area there are on online dating sites the more chance you have of finding the right person.
It is usually recommended to stay within 60-100 miles when setting up dates, and if there are fewer people to choose from within that radius, it's probably going to be that much tougher to find the perfect match.
Luckily, with the popularity of online dating growing as we speak, we can expect more singles to join us in the near future, thus increasing the pool of potential candidates.
So, you should most definitely stick around.
Problem #3: Revealing Too Much Information
Revealing too much private information can be a tricky situation that makes you feel too exposed without getting the desired results.
Your profile should contain concise and clear information that presents you as an outgoing and down-to-earth person, but you better keep things like your address, place of work, phone number, and the like to yourself.
When the time comes and you meet someone worthy, feel free to reveal as much as you see fit, but the internet will always be a place where you hold your tongue.